The Relaunch Of Casino Tropez Is Now Official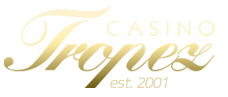 Casino Tropez, established in 2001, is proud to announce the official relaunch of it site. And to be honest, this was really much needed as you could have expected that the site had not been updated since its official lunch.
But now the very much most trusted name in online gaming, Casino Tropez, has a new design that really suggests that the website as well as the casino software has a new look & feel with increased usability.
Check out the new design of Casino Tropez here!
The New Casino Tropez Site
Some of the features of the new site include:
A new promotion package as the traditional $3,000 Welcome Bonus has now become a $3,000 Welcome Package, led by the unique Payback Bonus. With the Payback Bonus, players' risk is minimized thanks to a 100% match bonus up to $100 on their first deposit + a 50% refund up to $1,000 on all deposits made on their first day. Please notice that this bonus is so new, that their site has not even been updated to fully reflect this. Don't worry, it will be very soon.
Another great addition is the Instant Web Play. Further to downloading the free casino software, players can now play Casino Tropez instantly in their web browser by logging in directly to the Casino Tropez website. The same username and password can be used to play Casino Tropez games on both platforms.
Casino Tropez Casino School
You will also find a brand new Casino School at Casino Tropez. So what is a Casino School? It's a new section full of casino game articles that has been added to Casino Tropez' site. This will come in handy for players looking to learn more about game rules, strategy, history and more.
Other than that, you can expect to continue enjoying the same benefits of playing at one of the most established casinos online including over 350 Playtech casino games, easy deposits and withdrawals, a lucrative VIP program and exceptional customer service in 14 languages.
Special Bonus Promotions
No matter what the occasion, it's likely Casino Tropez is celebrating it, and by celebrating we usually mean giving you extra casino bonuses. So if there's a major holiday coming up, an international sporting event or even something as seemingly trivial as the change of seasons, you can be certain they're offering some special rewards to mark the occasion. More free casino money means more chances to play and win. You need be a registered player of course to claim your casino bonuses (just download Casino Tropez and set up a Real Money account if you haven't already done so). Then make sure to check your inbox for announcements regarding our latest promotions, and bookmark CasinoVipOnline, so you can always have a glance at what great new casino promotions are coming your way.