Rescue The Kidnapped Ann Darrow From King Kong!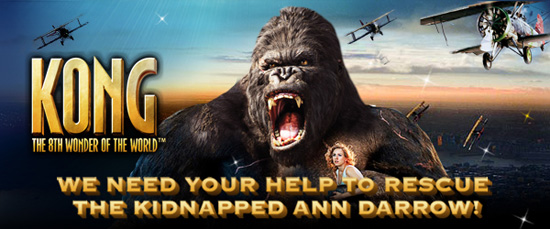 King Kong has kidnapped the beautiful Ann Darrow and hidden her deep in Grand Reef Casino! Can you distract Kong and help her out? You will need to play the pokie and earn double loyalty points, massive casino bonuses and more on the smash hit 5 reel 20 line pokie - King Kong! Read all about it in this article!
Login at Grand Reef Casino now to win big!
Amazing King Kong Pokie Promotions
Join Grand Reef Casino for six days of incredible promotions and score yourself free bonuses, double loyalty points and awesome spot bonus giveaways! The action is just about to snart and you can expect amazing promos like Jack Driscoll's Happy Hour with Double Loyality Points, Kong "The Mountain Gorilla" Weekend Promos, Must Have Monday Bonus Giveaways and Big Bad Jungle Triple Loyality Points.
The Jack Driscoll's Happy Hour
Jack Driscoll brings you unlimited bonuses and double loyalty points. You must make a deposit between €25 and €499 and you will get a 25% bonus or deposit €500 or more and receive a 50% bonus - no limit! But Jack Driscoll needs more help though - when you play King Kong on Wednesday 16th May 2012 you will earn an extra FREE loyalty point for every point earned!
Click here to help Jack Driscoll at Grand Reef Casino!
More King Kong Promos
Carl and his crew have just been attacked by vicious natives on the Island! Ann has been captured and the matriarch of the tribe has vowed to sacrifice her to Kong but it's not too late to save her! Simply choose three of the seven amazing bonuses listed on Grand Reef Casinos promotions page and the bigger the bonus you choose, the closer Kong will come to releasing Ann!
Captain Englehorn has arranged a rescue party for Ann, but Kong is falling more head over heels for her! You are getting closer to finding her so all you need to do is play King Kong on Sunday 20th May 2012 and for every loyalty point you score, the casino will give you another two loyalty points free!
The King Kong promotion is nearing its end and there is one final thing to do before Ann can be rescued! For your chance to win one of ten €100 bonuses simply deposit and wager €25 or more on Monday 21st May 2012 and you'll be entered into our lucky draw. Good Luck!
Please note that terms and conditions are sent via email to your registered email address and by taking part in the specific promotion, you agree to these. Always ensure that you have read and understood all terms and conditions, and if not, please contact the support team to get help.
Join Grand Reef Casino this week for an amazing King Kong promotion! Play the game and discover more chances of winning!