Spin Palace releases four new games in March
For those of you who never tried Spin Palace Casino before, it is one of the only online casinos that continuously releases new online pokies on a regular basis. Once a month we get to play between 2-4 new online pokies featuring bonus rounds, jackpots and new themes. For the month of March Spin Palace and its sister casino Ruby Fortune Casino has released four new online pokies including, Eagle Wings, Retro Reels Extreme, Party Island and Asian Beauty.
First out is Eagle Wings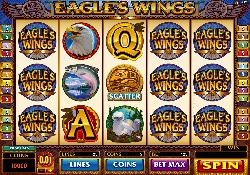 This online pokies is about, believe it or not, Eagles! Eagles everywhere, in the air, on land and for some reason a salmon is also one of the key pokies symbols. Eagles wings sounds sort of like one of those very old japanese nintendo games, that is if you pay attention to this pokies name and the theme music that plays when you play Eagle Wings.
Eagle Wings boasts 25 pay lines over 5 wheels with the possibility to get as many as 60 free spins in one round with a multiplier of three. This means that whatever your original bet was, you get that bet over 60 free rounds multiplied by three. In other words you have a good shot at earnings quite a lot of coins.
Try out Eagle wings at Spin Palace Casino here!
Second out is Retro Reels -Extreme Heat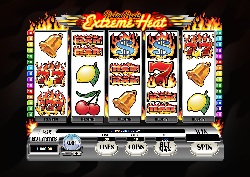 This is the third one in the series and is actually a very good pokie. It has a fairly unique look and the music is actually very pleasant. Design wise we could play this online pokie for hours on end as it features some rather groundbreaking functions.
In Retro Reels - Extreme Heat you have the options of re-spinning a single wheel for a small cost as many times as you want. This means that if you are shy one bonus symbol for that big win you can re-spin the wheel that missed it to get the full jackpot, that's assuming the re-spin actually gives the correct symbol. But if at first you don't succeed, re-spin again!
In Retro Reels Extreme Heat you will also find Scatter symbols, bonus symbols, jokers and a chance to win as much as 440 000 coins in one single spin. That, is not a bad online pokie considering it's not even progressive.
Try our Retro Reels - Extreme heat at Spin Palace Casino here!
Party Island is the third online pokie to be released this month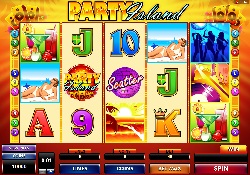 Party Island is not a great online pokie, we have seen many better like the one we just mini-reviewed above. It´s an online pokie shockingly about an island where there is a party. The music is okish and the graphics are nice but it´s not an online pokie we would invest more than a few hours on.
A fairly huge bonus is the fact that you can gamble any win you want. This can result in a doubling or even quadrupling of your original win in a quick game of gamble. It works this way, you can chose to decide if the next card that comes up is red or black, if you pick the correct one you instantly double your money and have the options to gamble that win again. If you however are feeling extra lucky you could choose to not only pick the colour but the suit of the card, such wins are rewarded with 4x the original win.
But, dont take our word for it...
Try out Party Island at Spin Palace Casino here!
The fourth and final online pokie is Asian Beauty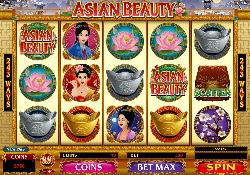 This online pokie comes with a nice introduction movie to somewhat familiarize yourself with the pokiemachine. It plays over five wheels but every bet you make spins every wheel. That is because it features 243 ways to win on every spin regardless of the bet.
You will also find Scatter symbols, a bonus round with a chance to win free spins and a possibility to win as much as 27 625 coins on a single spin, double that if that win takes you straight into the bonusround.
You can bet as little as 30 coins per round in Asian Beauty or as much as 300 coins.