Mega Moolah Creates Casino Multi-Millionaire!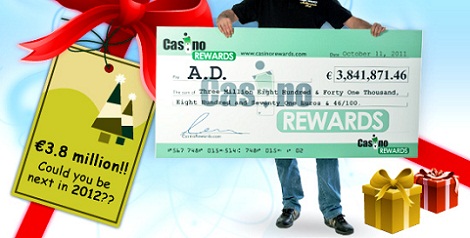 Late 2011 has just seen a €3.8 million jackpot winner, called A.D., pick up one of those huge cheques as seen above for an incredible €3,841,871.46 jackpot win after a 50 cent bet of bonus money on the millionaire making pokie Mega Moolah. This adds to the long list of other progressive jackpot winners who won hundreds of thousands of dollars over the course of the year at the finest Microgaming Casino. We will keep our fingers crossed that your initials will be appearing in the list of winners in 2012, if you have not already won! So why don't you take a spin at the recommended Microgaming casino, Mummys Gold Casino. The bonus offer at Mummys Gold Casino is a fabulous 1 hour free play offers where you get AU$500 and 1 hour to win as much as possible.
Play with $500 and win as much as you can at Mummys Gold Casino
Claiming the Jackpot "Down Under"
After having won the progressive jackpot, the jackpot winner A.D. and his partner were flown out to Sydney, Australia by the Australian online casino group, Casino Rewards. During their visit "Down Under" they were to be wined and dined at a 5 star restaurant next to the iconic Sydney Opera House, and handed over their life-changing jackpot cheque! In fact, the life changing sum went down in history as one of the bigger jackpot won at this group of online casinos. Another player won massive $5.5 million back in 2008 on the same online pokie, Mega Moolah.
A.D. even hit the jackpot using free casino bonus money! Sign up at Mummys Gold Casino or any of the recommended Microgaming casinos found here on CasinoVipOnline.com to receive your free bonus money today!
Play with $500 Free at Mummys Gold Casino
Interview with the Jackpot Winner
It is always funny and interesteing to hear winners telling about what they consider doing with their huge prices. A.D. tells that he plans to give something from his winnings to charity, and then he wants to help some relatives, his girlfriend etc. More travelling seems to be a classic too, and in fact that is also what he intends to do. He does not intend to stop working, but might want to have some other people working for him also. But all in all, it seems as if the newly millionaire is in no hurry to spend his winnings.
The winner also tells about how he won the jackpot playing the Microgaming game, Mega Moolah. The jackpot screen opened and the wheel was spinning. There were a small risk that it stopped the wrong places, but it didn't and he thought that that could not happen to hi,. Anyway, it did and of course he could not believe it at first. He called the casino to make sure to make sure it was not an error. At first, he says, he didn't think much, but was of course thinking that most was probably going to change.
For the record, both A.D. and K.E. became overnight multi-millionaires thanks to free bonus money received through an online Microgaming Casino.