Daily Slots Freerolls in December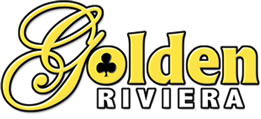 Play at Golden Riviera Casino!
Golden Riviera Casino is giving away AU$100 every single day in their AU$100 Daily Slots Freerolls this December! In these fantastic casino tournaments, you get to play against other slot-jockeys and battle it out for your share – best part is: IT'S FREE! 100% action for us pokie lovers!
Visit Golden Riviera Casino to win!
Daily Slots Freerolls at Golden Riviera Casino
As you have probably already figured out, these slots freerolls are held on a daily basis… This means that you get the chance to win free money every day on Golden Riviera Casino, no deposit required to participate. Details of the ongoing tournaments are also available in the casino lobby, but in short the tourneys are held every day from 20:00 GMT for 24 hours. The buy in is free as mentioned, and there are unlimited add-ons. The minimum number of players are 6 while the maximum is 3000. Registration for tournaments starts 12 hours before tournament starts – 08:00 GMT. If you miss it, don't worry, just play the next one the next day! Just look under the tournaments tab in the casino lobby!
The Freerolls' Prize Pool and Games
There is AU$100 Guaranteed every single day and pays out in the following way: Number one gets AU$40 while number 2 gets AU$25. There is also AU$15 for number three, and number 4 and 5 both receives AU$10
The AU$100 Daily Slots Freerolls take place on 6 awesome video pokies that will rock your world. Every day is a different slot, so give them all a try! They are some of the finest Microgaming machines, and if you haven't tried on or more of them, you are missing out. Here is a bit more information about the games and each daily pokie freeroll.
Take a trip back to Camelot with Avalon on this 5-Reel Video Slot where the Lady of the Lake is key. Start out with 10,000 coins and a start time of 5 Minutes. Continue with 7,500 coins 3 Minutes at a continue cost of AU$3.00. Re-buys are available at AU$1.00.
Join Agent 47 as Hitman on a 5-Reel mission in this Video slot adaptation of the popular video game. Instead of the above mentioned 10,000 coins you get 18,000 coins, but apart from this the tournament details are the same.
Loaded is 5-Reels of bling and you get pimped out rides as you spin on the biggest slot in the hood! Here you start of with 25,000 coins while the other details are more or less similar to the above mentioned. Continued spins and re-buy is also available.
Another classic Microgaming pokie is Thunderstruck where Thor, the god of Thunder, rains down the bonuses on 5 Reels of booming play! A smaller amount of start coins is available, namely 3,000, but you can continue spins an re-buy if you feel like it.
The well-known Lara Croft take s you on an adventure full of treasures and excitement on 5 exciting reels with the same amount of starting coins as on the Avalon daily freeroll!
It's all glitz and glamour on Ladies Nite, a 5-Reel Video slot that feels like a night out on the town! Only 3,000 in starting coins, but it is the same for everyone, and luckily you can always go for continued spins and re-buys here.
Visit Golden Riviera this December to get your hands on the free, no deposit bonuses here!