Rival Casinos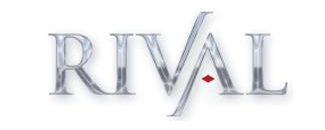 Today, there are so many software providers on the market. Technology is making constant progress and thereby making it possible to produce even better casino software solutions. Competition amongst software developers is fierce and rivalry seems to be the tendency as these companies are always looking for innovative and exciting new games to offer their customers.
History of Rival Gaming
The tensions between the respective providers of online casino software might be one of the reasons for choice of name of this relatively new player in the online casino software industry, Rival Gaming. Rival Gaming was launched in 2006. Since then the popular developers have licensed more than 35 casino operators worldwide including household names like Always Vegas Casino, DaVinci's Gold Casino, Sahara Sands, Jackpot Slots and Superior Casino. As a newcomer, Rival Games' introduction to the market has been extremely well received. Rival Gaming is consistently ranked prestigiously among the top five in Online Gambling Magazine Awards for Best Online Casino. More Rival Gaming casinos have won prestigious awards such as "Best New Casino".
The Rival Gaming Concept
Rival Gaming offers a full service package ranging from the management of the casino to running the actual games. This includes 24 / 7 customer support via e-mail, phone and live chat, monitoring the players' transactions and auditing services, extensive fraud prevention and hosting and even some hardware services. These features allow casino operators to monitor all aspects of the casino including the players' gambling experience at the casino to ensure the best possible service at all times.
When it comes to the core area of gaming software development Rival Gaming does not fall short in comparison to their competitors. Rival's game suite includes more than 80 online casino games, including the usual table games, a range of card games, video poker, roulette, slots and progressive games. The graphics of all the games are rich and colorful and give a pleasing and attractive interface. Rival Gaming software is developed with the player in focus at all times.
The Rival I-Slots
Definitely worth mentioning is the I-Slots. I-Slots are interactive slots games that combine video clips with slots entertainment. These revolutionary slots are unique to the Rival Gaming software and has gained tremendous popularity among players around the world due to it being fresh, new and innovative - some key elements in a much needed upgrade of the ever popular but somewhat stagnant type of game. Rival Gamings' focus on the slots seems to have been a smart move as Rival Gaming is now considered a leading force in the field of developing interesting and fun slots games.
Rival Gaming may be the newcomer to the market but most not be overlooked. Much is still expected from these software magicians so stay prepared for the next big thing to hit the industry. It might very well be Rival Gaming serving it to you!